Springville Road Race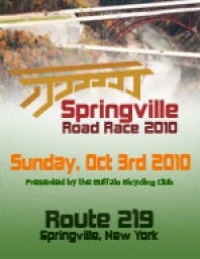 October 3rd, 2010 10:00am
Race Sponsor
Buffalo Bicycling Club
Location
Springville, New York
Cost
$40.00
Race Director
Frank Grillo
Marshalls
No Marshalls Assigned
File Downloads
Race Flier
Results
Volunteer List
Details
Springville Road Race
Presented by the Buffalo Bicycling Club
Sunday October 3, 2010
Rt 219, Springville, New York
Permit # 2010-2835

Category Distance Time Entry Fee Field Limit Prizes
MenCat. 3 / 4 6 laps 10:00 am $ 40 75 Trophy
MenCat. 5 4 laps 10:05 am $ 40 50 Trophy
Citizens 3 laps 10:20 am $ 25 50 Trophy
MenCat. 1 / 2 / 3 7 laps 12:00 pm $ 40 75 Trophy
MasterMen 40+ 5 laps 12:05 pm $ 40 75 Trophy
Women1/2/3/4 4 laps 12:10 pm $ 40 50 Trophy
Disclaimer:
Proceeds from thisrace will go directly to the BuffaloBicycling Club fund for a chip timing system. With this in mind there will beno cash pay out. In exchange for cash you will be treated to one of the mostbeautiful and scenic road races of the season.
Prizes/places based onthe following minimum field sizes:
Women 1/2/3/4, Men,Men Cat. 5, and MM 40+ - min. of 20 Men Cat. 1/2/3, and Men Cat. 3/4 - min. of 30
Promoter reserves theright to combine categories due to insufficient entries or shorten races due totime constraints.
1-day licenseavailable for $10.
USA Cycling rules apply. Bicycles subject to safety inspection.Registration opens at 8:00 am and closes ˝ hr. prior to start of each race.Race held rain or shine. No refunds; entry will be considered a donation.
Course is 7.2 mileclosed circuit that will run along the new twin span bridges on RT 219 inSpringville. This is a once in a lifetime chance to race on this scenic stretchof new highway. The fall foliage will be in full swing and this will be a raceyou won't want to miss.
Register on-line at http://www.BikeReg.com/events/register.asp?eventid=11660 or day of event
For more information, goto: www.buffalobicycling.com
Or contact FrankGrillo at (716) 949-6338 or frank@peakpowercoaching.com
Directions: Rt 219 to Springville, NY. Parking will be on new Peters Road, justeast of old 219, about a mile south of the Cattaraugus Creek bridge. (Take a left on new Peters Road, one mile past theSpringville Country Club.)
From Canada: Take the QEW to Ft. Erie andcross the Peace Bridgeinto the U.S.Take the Rt. 190-south to the Rt. 90-west and Rt 219 to Springville, NY.Parking will be on new Peters Road,just east of old 219, about a mile south of the Cattaraugus Creek bridge. (Take a left on new Peters Road, one mile past theSpringville Country Club.)